Reflection
Hurricane Dorian Volunteer Reflections
Some of our Greyshirts reflect on their time in Abaco, Bahamas during Hurricane Dorian Bahamas Relief operations.
I wanted to become involved in Team Rubicon because I was impressed and inspired by what the organization stands for and its stated mission. This was my first deployment, so I came into the operation with an open mind in terms of expectations. However, I was taken aback with the sheer level of destruction on Abacos, and my heart was breaking for the people impacted. I felt overwhelmed with the sheer magnitude of the challenge facing the people and the team. After the first few working days, however, I repeated the adage "How do you eat an elephant?" enough times that I started to believe we could accomplish practical results for the people of the island if we just took it "one bite at a time".
Looking back on the entire two weeks I truly believe we began to see tangible results which, in some small way, would help the local folks begin to rebuild their lives. The most positive moment during my deployment was seeing a noticeable increase in people in the neighbourhoods we were working in. This gave me confidence that the human spirit will always triumph in the face of adversity. I think TR is a unique organization with a noble mandate, and I look forward to working with the team again.
Dan Faughnan  |  CAF Veteran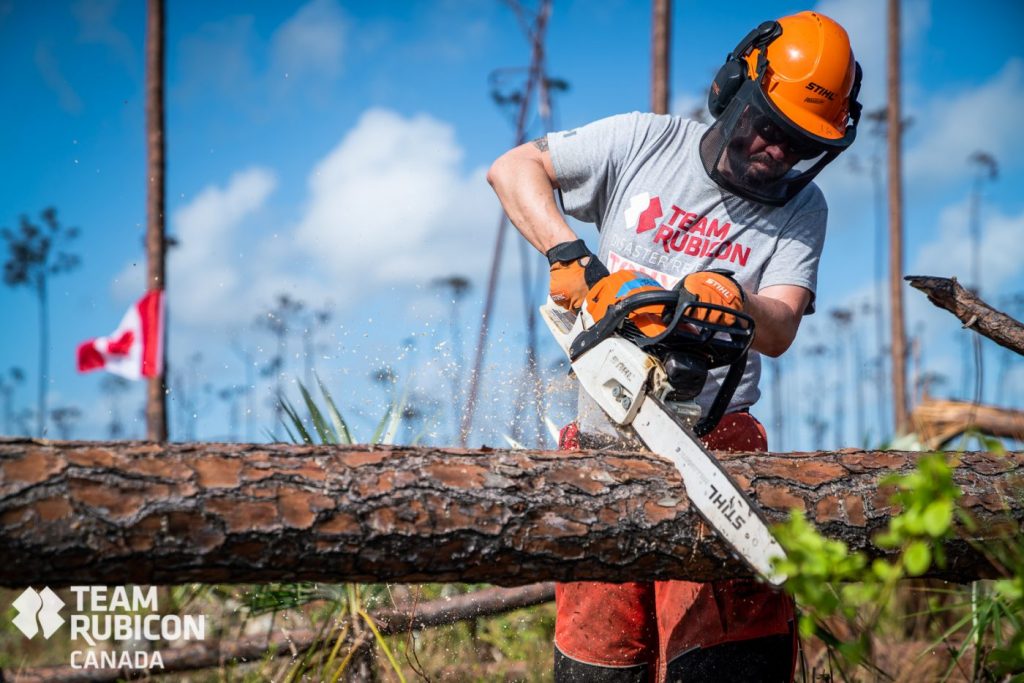 Within 24 hours of getting the call, Team Rubicon Canada was able to mobilize 10 greyshirts from across Canada to provide disaster response to the Bahamas in the aftermath of Hurricane Dorian. 48 hours later we were at ground zero in the hardest hit city of Marsh Harbour on Abaco Island. The size and scale of the damage is incredible and is unlike anything most people have ever seen. The majority of the Islands population had been evacuated and even the birds had left as most trees had been stripped bare of foliage. With no time to waste we got to work and joined strike teams from the US and UK and worked alongside army units from France and Jamaica to focus our combined efforts on renovating Central Abaco Primary school into an aid distribution centre for the returning citizens of Abaco. Within a week, the school damage was repaired enough that other NGOs were using it and the parking lot as a distribution centre for food and necessities.
In two weeks we covered roofs, cleared roads, repaired generators, and cleared buildings and infrastructure vital to the returning citizens. The amount of work needed to rebuild Marsh Harbour is staggering but I'm proud to have been able to participate in the international effort with fellow greyshirts from Canada and around the world to make way for the return of the resilient citizens of Abaco and the Bahamas.
Anthony Toderian  |  CAF Veteran
After watching the impact Hurricane Dorian had on the people of the Bahamas, I personally felt an overwhelming need to respond and to contribute in some form or fashion. Within days I received the rollout from TRC to deploy. There was no hesitation to join in on the first wave.
Arriving to the Bahamas and Abaco Island, I really didn't see the full impact until we deployed to Marsh Harbour. The level of deviation, destruction, and sheer magnitude Dorian had on the island and it's people was beyond my comprehension. The true impact hit me while clearing out debris at local residents house and his family. It was then, that I was overwhelmed with emotions of sadness and distress for the people of the Bahamas — to have lost everything including family members and friends. Yet, emotions of joy and humility were felt simultaneously. To see hope and resilience in the eyes of the people…. it was at that moment in my life that gave me clarity, and my true purpose of why I am here.
Team Rubicon has given me purpose and, more importantly a clearer, positive, inward and outward look at life. I have taken too much for granted and that has made me somewhat pessimistic in daily life. TRC has helped put my life back on track. To Team Rubicon Canada I am forever thankful to continue to serve.
Randy DeCecco  |  CAF Veteran