Reflection
How One Volunteer Lives by our "Service Above Self" Principle
As Zach Simard, a member of the Canadian Armed Forces (CAF) and Team Rubicon Canada (TRC) volunteer, answered the call for help from communities impacted by the 2019 spring floods in Eastern Canada, he faced devastation not just in his own community in Renfrew County, ON, but also his home. It had flooded, forcing him to vacate, take up temporary residence in a hotel and face the difficult task of surveying and recovering from the damage.
Despite his own personal hardships, Zach never lost sight of his mission with either the CAF or TRC to help homeowners prepare and recover from the floods—his selfless acts of service to those in need never wavered. He personifies our core principle, "Service Above Self", that drives everything we do, and lives and breathes our "Mission First, Greyshirts Always" rallying cry. By doing so, Zach has found a renewed sense of purpose and community, and inspired other Greyshirt volunteers in our TRibe. We hope his story, told in his own words below, will inspire you too.
In this age where millennials are becoming the driving labour force, everyone is looking for their cause. Whether it be as small as building a family to as big as tackling world hunger, today the craving for some sort of driving force—some sort of purpose—is insatiable. Many organizations promise to fill that void, but few can deliver. In TRC, I have found the holy grail of purpose—an organization small enough to help steer, with a goal worthy enough for anyone to get behind, and with a culture that fosters innovation and achieving your maximum potential.
To illustrate this, I want to talk about how I found the TRibe, my rapid journey through operations, and how my involvement has affected me.
When I found TRC, I had just come back from CAF operations in Rīga, Latvia. While in Latvia, I was intimately involved with planning and executing high-level engagements between strategic/operational decision-makers. I saw the tangible results of my efforts on Canadian interests and security regularly; however, coming back to Canada and moving into an average staff job at a unit left me feeling like what I did every day at work mattered relatively little. As my unit was taking responsibility for the CAF Immediate Reaction Unit (IRU), I was sent to Toronto for a course on emergency management (EM) and planning. Our instructor mentioned his experience with TRC in Fort McMurray and encouraged us all to join. With my newfound interest in EM, I took his advice.
My first real experience with TRC was in the precursor to Operation High Waters—the response to the 2019 spring floods in Eastern Canada that left homes devastated. It was the Friday of Easter weekend and I received a notice to deploy to Pontiac, QC to help with sandbags. I called my folks and let them know that I'd be late to dinner on Saturday. When I showed up in Pontiac, I and the other volunteers got down to good old-fashioned work, filling and slinging sandbags which was fulfilling in a back-to-basics way for me (as a combat engineering officer, I rarely get to be the "doer" anymore).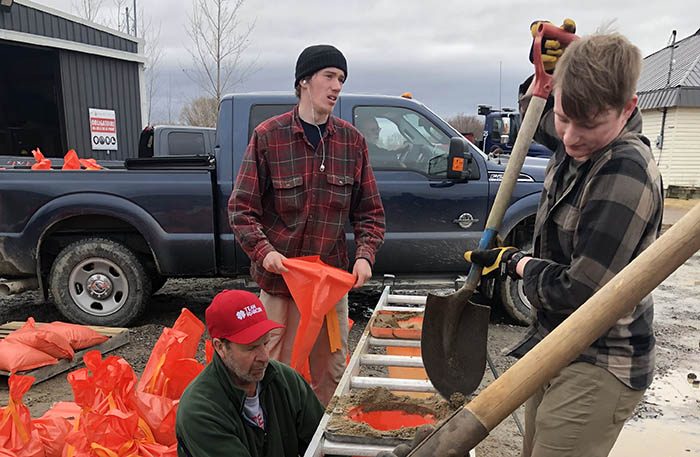 At the end of the day, I was asked if I could help out in Cumberland, ON the next day—I was up for the task. The next morning, I learned that I'd lead a strike team to protect three houses. No big deal, I tell myself. A strike team is a small element; the army had trained me for this. I then learned my strike team consisted of approximately 20 firefighters and 50 spontaneous civilian volunteers. We got the job done and then some. This escalation continued: the next day I helped conduct damage assessments in Constance Bay, ON and the following week I was deployed as part of the CAF relief efforts. In uniform, I provided crucial liaison and understanding to the military headquarters. By the time I had completed my CAF duties and returned to TRC, I worked as the liaison officer between TRC and the municipal officials in Renfrew County, ON, and also in support of the plans cell. Post-operations, I now help the national development team with grants and I am part of the Disaster Response Unit staff in the National Capital Region. At no point in this journey was I limited by the little TRC experience I had; the principals recognized my potential and appreciated my previous experience.
After becoming involved with TRC, I now feel like I have a real purpose. I regularly see the positive impact of my actions on Canadian communities in need. I also have the opportunity to shape this amazing organization as it grows into itself. Along the way, I have met some amazing friends who quickly became more like family.
During the military operations, I was commended for my knowledge of the non-governmental organization sector and for the direct increase in effectiveness that it brought to our headquarters.
TRC has given me more than purpose and identity—it has given me the TRibe.