History and Culture
Deploy in Canada
At the start of 2016, Team Rubicon Canada had only a handful of volunteers; within weeks of Op Pay Dirt in May-June, the ranks of the organization swelled. These volunteers now stand ready and available when their communities are in their greatest need. As we work towards the full launch of Team Rubicon Canada later this year, we expect the deployment pace to accelerate.
REGIONAL EXECUTION
Team Rubicon operates and deploys at the regional level. Emergency management is most effectively executed at the local level and we are expanding our capabilities to match this concept. When an operation initiates, the Membership and Field Operations teams lead the personnel mobilization process. These teams send out the call, vet available personnel, and dispatch members. Selection is based strictly on objective criteria: Proximity, availability, and administrative readiness.
 Proximity
Safety Radius – We expand our response radius to approximately 200 kilometres of the affected community. Since some of these deployments can be a long haul, we encourage realistic and safe driving practices. It is important that members do not become victims.
Local members – We strive to deploy as close to home as possible. Locals are personally invested in their community, know it best, and will be there long after the larger relief effort departs. We joined Team Rubicon to continue serving our communities. Local team members are the best brand ambassadors, and they establish instant credibility for Team Rubicon with their presence. Finally, they have strong existing networks giving access to logistics support and unaffiliated volunteers.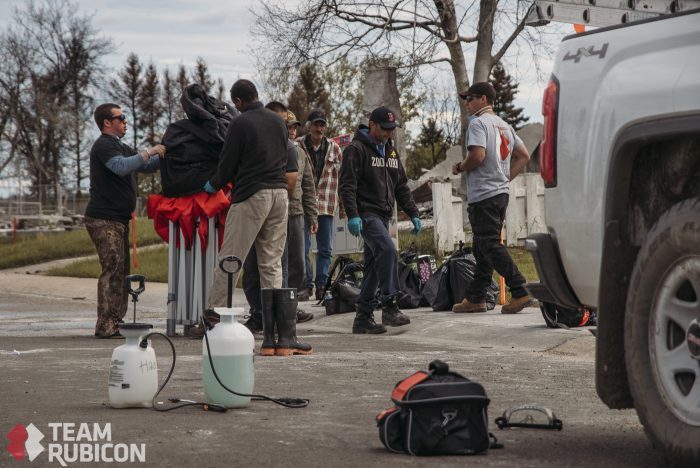 AVAILABILITY
Immediately Ready – We bridge the gap. Keep your go bag by the door. We keep increasing the speed in which we deploy as a team (although self–deploying is not consistent with our organizational values).
Operational Periods – When the scope of work is limited, we have to prioritize who we deploy in order to ensure we maintain the ability to over-deliver on our commitments. Disaster relief operations are complex. We achieve greater efficiency when we deploy team members for longer periods of time, but recognize the reality that everyday volunteering to support a community in need is a day away from life's other obligations.
ADMINISTRATIVE READINESS
Sign Up Form – You've got to be on the roster to get in on the action.
Personal Points of Contact – Leaders must be able to contact members with follow on coordination.
Emergency Contact Information – Disasters are inherently dangerous. If an incident occurs, we need to be able to contact someone on your behalf.
Background check cleared – We must protect our team members and the communities they serve.
WILL YOU BE READY WHEN THE CALL GOES OUT?
Team Rubicon has a hard-earned reputation built upon the strong backs and keen minds of you, our team members. We must continue to maintain the high state of personal and organizational readiness for when we receive the clarion call, we can respond immediately with a resounding "Send me."