Reflection
A Greyshirt Crosses Her Own Rubicon to Help Camp Maple Leaf
The phrase "crossing the Rubicon" is an idiom that implies a person is passing a point of no return. It alludes to the crossing of the Rubicon River by Julius Caesar in January 49 BC. Volunteer Colette Ainsworth had her own "crossing the river" moment when she was part of a team of 22 volunteers from Team Rubicon Canada that crossed onto Jacob's Island to offer their services to Camp Maple Leaf. Thankfully, her motives were far more idealistic than Caesar's – as was her introduction to life on the island.
"I am not from the military or a first responder, but I do come from a family that served," said Colette, who is now the Operations Support Manager with Team Rubicon Canada. "Being part of Team Rubicon means giving back to people and using skills that you necessarily didn't know you have to get in there and get the job done. From the moment my foot hit the ground I thought, what a magical place this is. The fact it's on an island, the cabins and the way they're set up, it's like a little fairy land in amongst the forest."
Team Rubicon recruits, trains, equips, organizes and deploys veterans to aid in disaster response operations. Through continued service, Team Rubicon seeks to provide veterans with three things they lose after leaving the military: a purpose, gained through disaster relief; community, built by serving with others; and identify, from recognizing the impact one individual can make. Inspired by her first visit to Camp Maple Leaf, Colette requested to be part of this year's Team Rubicon volunteer commitment to the island, which will also include military members from the Toronto carpenters' union serving as Team Rubicon "Greyshirts." She will be serving in the role of "Incident Commander," leading the team to ensure that priorities at the camp are properly addressed.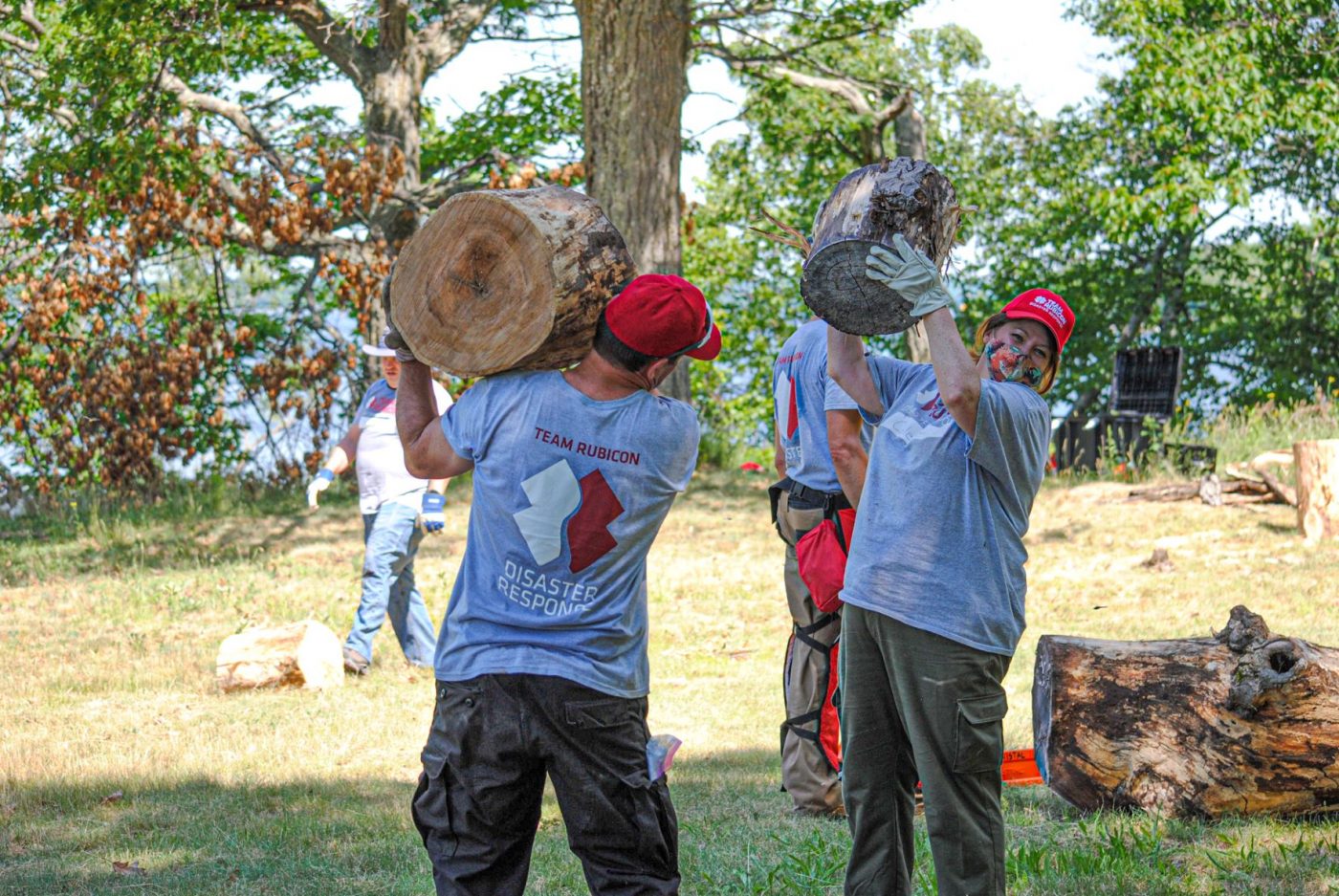 "We're going to run it like an operation. If there's a disaster, we split up into teams. At Camp Maple Leaf, we want to run it the same way. It's a training exercise plus it's a service project. It's a double hit for us. We'll be maximizing the Greyshirts that we have there, being effective and efficient."
While there is ample work for the Team Rubicon volunteers to complete, Colette says it's actually very empowering to be an agent of change to the former and active military personnel who will be part of her team.
"It's actually cathartic," she said. "That's how one of our Greyshirts describes it. It's that feeling that you've served, you're doing something good for someone else. It's soul food. We all give for our own reason. That takeaway is so important."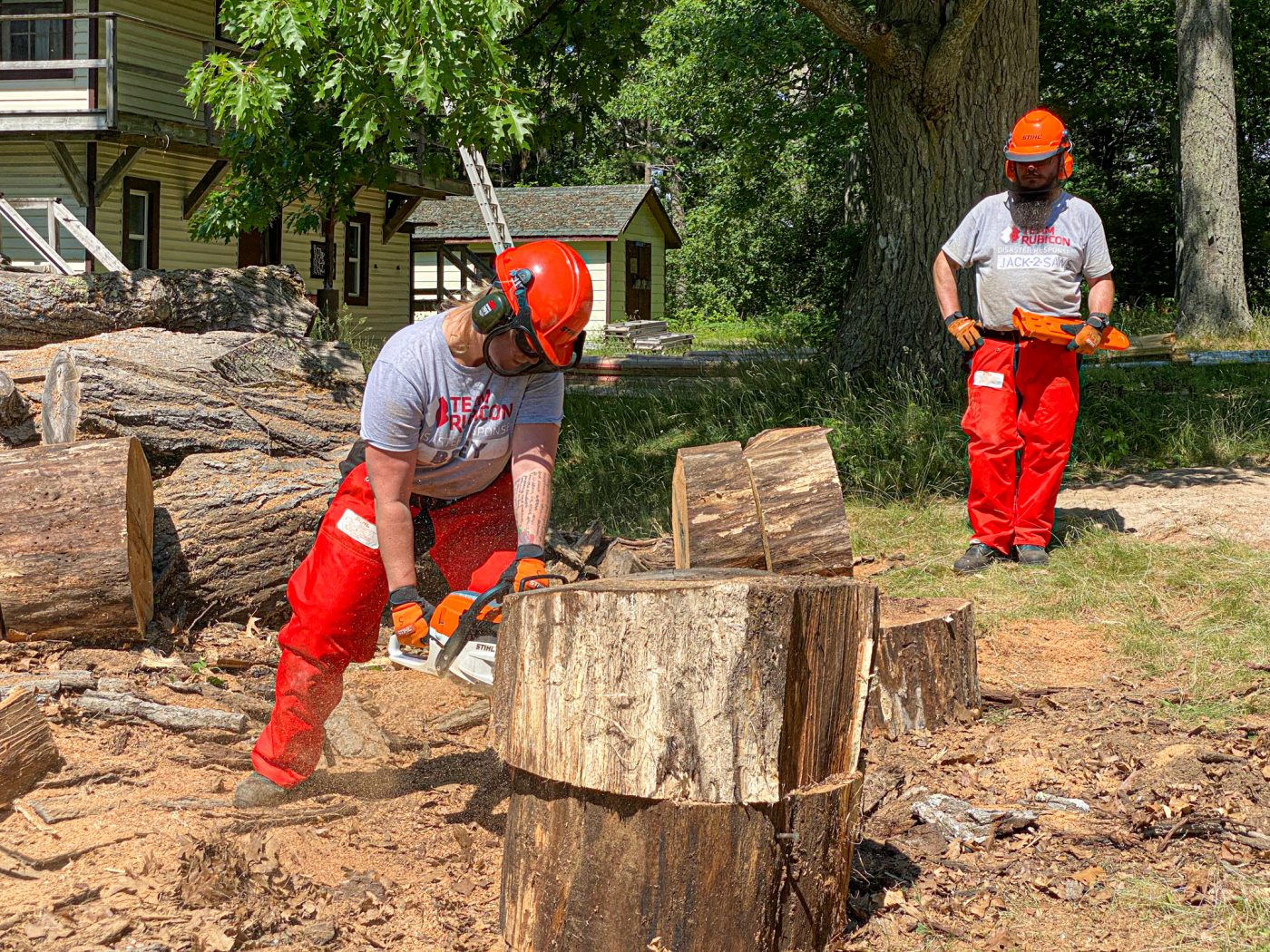 And what's the primary takeaway for Colette having already served one deployment as a volunteer at Camp Maple Leaf?
"What Camp Maple Leaf is that it's not just about the men and women that serve, it's the families that allow that service to happen. Those are the ones keeping the fires warm so to speak, the children that are missing a parent. It's just a beautiful feeling to think you've been part of something to help make some child have the best week ever, to step out of their situation that may not be the ideal childhood. You're helping give them that, to be able to explore and just be, release and take it all in. Camp Maple Leaf is magical."